WEB DESIGN VIENNA VIRGINIA
OLYMPUS WEB DESIGN SERVICES IN VIENNA VA
Olympus Web Design is a premier web design and development company that serves clients in Vienna, Virginia and the surrounding areas. Our experienced team of web designers and developers are dedicated to creating beautiful and functional websites that help businesses grow online.
Web Design Vienna VA couldn't be easier and more affordable. At Olympus Web Design, we are offering up to date and customized packages at affordable prices. Best Affordable Web Design services in Vienna VA Virginia and surrounding areas. Large or Small Websites, New or Existing, We Can Help.
Our team of professional web design experts works in close partnership with each client in Vienna area to understand their competitive issues and marketing goals, define and refine the ideal web design approach, and execute a very effective and unique website design approach.
We've been around for more than 15 years. Let us use our experience to deliver you an an amazing new website.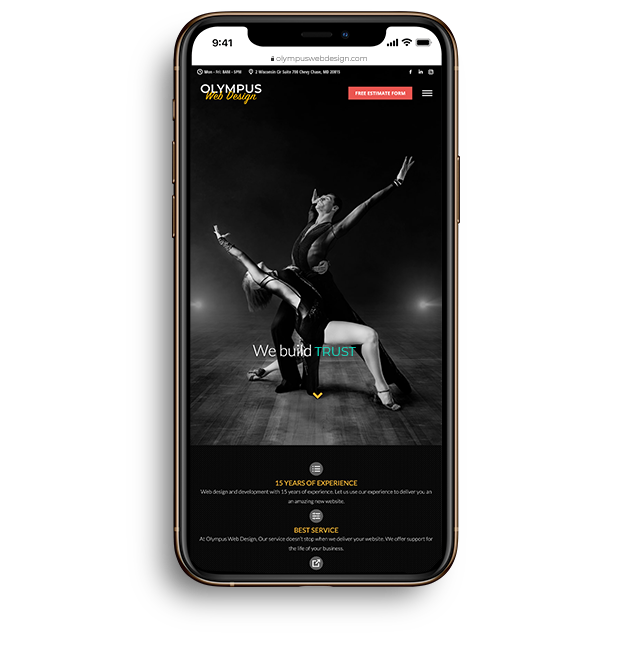 WEB DESIGN SERVICES IN VIENNA VA
Vienna, Virginia is a vibrant and diverse community with a strong local economy. At Olympus Web Design, we understand the unique needs of businesses in Vienna and can create custom websites that reflect the culture and values of the community. Whether you're a small business owner or a large corporation, we can help you establish a strong online presence that attracts and engages your target audience.
Custom Web Design

As a professional web design company we offer custom web design services to create unique and responsive websites that meet the needs and goals of our clients.

E-commerce Web Design

Designing and developing an online store with a user-friendly interface and easy-to-use shopping cart and checkout process.

Web Development

Developing the website from scratch or utilizing a Content Management System (CMS) such as WordPress, Drupal, or Joomla to create a custom website for the client.

Website Redesign:

Redesigning an outdated website to create a modern and updated website that meets current industry standards.

Responsive Design

Designing a website that is responsive and adapts to different screen sizes and devices such as desktops, laptops, tablets, and mobile phones.
Search Engine Optimization (SEO)

Optimizing the website's content, design, and structure for search engines to improve its visibility and search rankings.

Content Creation

Creating high-quality content such as copy, images, videos, and infographics that engage and inform website visitors.

Maintenance and Support

Providing website maintenance services such as updates, backups, and security checks, and offering customer support and technical assistance.

Web Hosting

Offering web hosting services for websites, including domain registration, email hosting, and web security services.

Website Analytics

Providing analytics to track website traffic, user behavior, and conversion rates to help the client make informed decisions and improve their website's performance.
At Olympus Web Design, we believe that every business deserves a website that reflects its brand and values. That's why we take the time to understand your business and create a website that is tailored to your specific needs. Our commitment to exceptional customer service and support ensures that you have a positive experience from start to finish.
1. Discovery

In our FREE initial consultation, we will discuss the project in detail and learn about your project goals and requirements.

2. Planning

After reviewing your goals and requirements, In this phase we will decide which technologies are to be implemented.

3. Design

Now that we have a clear focus, it's time to present the first sketch. It will give you an idea about how your website design will look like.

3. Development

Once the design is approved by all project stakeholders, the next step would be the development of the website itself.

4. Testing

At this point, we attend to the final details and test your web site.

5. Delivery

Once we receive your final approval, it is time to deliver the site. We upload the files to your server.
Contact Olympus Web Design Today
If you're looking for professional web design and development services in Vienna, Virginia, and the surrounding areas, contact Olympus Web Design today. Let us help you establish a strong online presence that attracts and engages your target audience and helps you achieve your business goals.
We specialize in WordPress web development, which is a flexible and powerful platform that allows us to create custom websites that are optimized for speed, performance, and user experience. Our WordPress websites are fully responsive, meaning they look great and function flawlessly on all devices, including smartphones, tablets, and desktop computers.
In addition to WordPress web development, we also offer a wide range of web design services, including website redesigns, e-commerce website design, and custom web application development. Our team of designers and developers work closely with each client to understand their unique needs and goals, and then create customized solutions that meet and exceed their expectations.
UP TO DATE, CREATIVE & RESPONSIVE WEB DESIGN
With the growth of mobile and tablet users, having a responsive website is a must. A responsive website as it says "responds" to any kind of mobile devise. If your website is responsive, it will adjust its size and design based on the mobile device being used to visit the site. We specialize in responsive web designs that not only look great on both desktop and mobile devices, but optimized for the best functionality and user experience as well.
Having years of experience in custom website design and development, Olympus builds elegant, up to date, responsive websites for small to large businesses and corporates in Vienna across a range of industries. It doesn't matter if you're a lawyer, hairdresser, mechanic or retailer, we will help your business get online and get more customers. As a web design company , our firm offers a full package of all web design and online marketing services including web design, logo and graphic design, content writing and product photography services.
WE DESIGN WEBSITES FOR SUCCESS
Designing websites is not just a job to us, it's our passion. We are personally connected to everything we create. We are passionate about our job which is creating superb website design to achieve your marketing goals. We are a full-service website design company offering  Web Design, Content Writing and product Photography. We are with you every step of the way
A COMPLETE PACKAGE OF WEB DESIGN VIENNA VA
As specialists in Web Design Vienna, we also have expertise in developing e-commerce websites, web development and mobile apps.
Web Design Company Vienna: Olympus Web Design Offers the most complete website design packages in Vienna area. Whether you need a brand new website, or need to update an existing one, we can do everything from logo design to web design and from content writing to photography. Just choose your color pallet , decide between static and dynamic or HTML and WordPress and leave the rest to us.
VIENNA WEB DESIGN SERVICES
OFFERING WEB DESIGN IN VIENNA SINCE 2004
OUR MAIN AREAS OF WEB DESIGN VIENNA CORNER SERVICES INCLUDE, BUT ARE NOT LIMITED TO:
Small Business Web Design
Office & Corporate Web Design
WordPress Web Design
Online Magazines
Photography Services
Content Writing Services
Static HTML Web Design
Content Management System (CMS)
E-Commerce Web Design
WHY CHOOSE US?
Olympus Web Design is a one stope shop for all your web design needs.
FAST DELIVERY
We will meet your deadlines and time frames.
BEST QUALITY
Using latest trends & technology in web design
BEST PRICES
Shop around before coming to us, you will be surprised.
IN SEARCH OF WEB DESIGN VIENNA AREA?
FREE CONSULTATION WITH NO OBLIGATION
Looking for WebDesign Vienna, VA?  Call us today to schedule in-person meetings with our professional staff. Web Design inquiries in Vienna will have the same day meeting.
We would love to hear form you. Simply get in touch and we'll be able to answer any questions you have and clearly explain what steps are involved.
NEED A WEBSITES TAILORED TO YOUR BUSINESS'S UNIQUE NEEDS?
TELL US ABOUT YOUR WEB DESIGN REQUIREMENTS
WEB DESIGN VIENNA
Olympus Web Design is an experienced team of website designers in Vienna, VA that develop professional and affordable websites for Small and Large offices,  businesses and nonprofits.